Trying to keep track of your driver's fuel receipts can do terrible things to your digestion.  All those pieces of paper from places like Rosebud, Drain and Reno.  All those unanswered questions.
You should treat yourself better.   The Pacific Pride Automated Fueling System gives you a regular, easy-to-read statement that itemizes your driver's fuel purchases.  So you have a painless way to keep tight control over fuel expenses and efficiency, from a convenient, single credit source.
Pacific Pride is easy on your drivers too.  Our access cards are good for fuel and motor oil at hundreds of commercial fueling sites throughout the nation.  All open 24 hours a day and 7 days a week.
You will find complete control over all of your fuel purchases.  Merit Oil Company brings you internet access to your fuel account, which gives you the control with your employee's and driver purchases.  You will see the following on our customer accessible web site upon logging in with your secure password.
Date

Time

Location

Truck/Vehicle Number

Quantity

Price Per Gallon

Total for each and every transaction

Breakdown of taxes paid by State, Federal, and Sales
As well as seeing the pertinent transaction information, you will see your balance, payment dates, and history.
You will be able to deactivate cards due to loss or theft.
At anytime, we are able to customize a report to fit your individual needs.
Merit Oil Company is an independent franchise of the Pacific Pride Network.
San Bernardino Gas Station & Cardlock
1405 W. Rialto Avenue
San Bernardino, CA 92410
Propane at this location.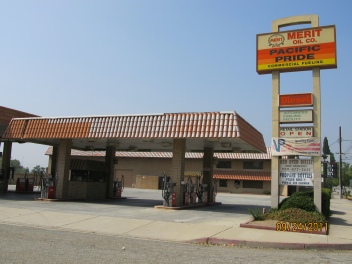 Riverside Cardlock
Riverside  Cardlock
1751 E. 3rd Street
Riverside, CA 92507